Those who have lived here five years or more will be required to have papers to prove their 'settled status'.
Theresa May's government outlined the offer in a 15-page document, which is dependent on British ex-pats abroad being given reciprocal certainty.
Until the UK's exit from the EU – expected to be on the 29 March 2019 - EU citizens already living in Britain will continue to have the rights they have under EU Treaties, after which the new rules and rights will apply.
EU citizens who have lived in the UK for five years and want settled status will have a two year 'grace period' to apply.
Those who arrived after a specified date [as yet to be determined] will be able to apply for a temporary period so they can accrue the necessary five years.
The specified date will fall between 29 March 2017, the date Article 50 was triggered, and 29 March 2019, the deadline for the UK's departure from the EU.
These new rights will be applied equally to citizens from all member states, meaning no preferential treatment for any nationality over another.
See the goverment graph below illustrating the policy.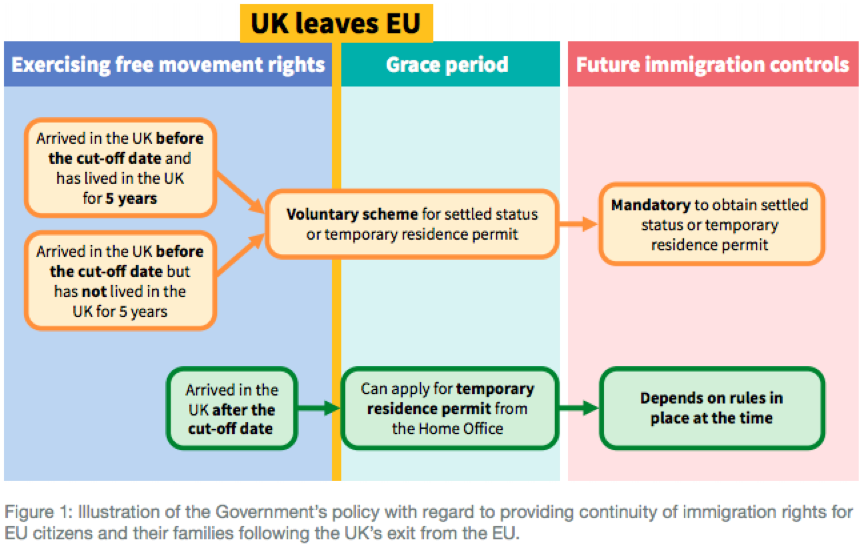 The government added: "Family dependants who join a qualifying EU citizen in the UK before the UK's exit will be able to apply for settled status after five years (including where the five years falls after our exit), irrespective of the specified date.
"Those joining after our exit will be subject to the same rules as those joining British citizens or alternatively to the post-exit immigration arrangements for EU citizens who arrive after the specified date."
The Liberal Democrats Brexit spokesperson, Tom Brake, said May should be "utterly ashamed" by the proposals, adding "Far from being 'fair and serious', this proposal offers very little and shows the government is continuing in its callousness."
Keir Starmer, shadow secretary of state for Brexit, previously tweeted it was "too little, too late". See below.
Too little. Too late. https://t.co/P7Xq5kaSqV

— Keir Starmer (@Keir_Starmer) June 22, 2017