Experts have analysed the Tory manifesto pledge, billed at a £60m cost, and found it could be more than five times as expensive than first thought.
Academics from the think-tank believe the true cost of the programme could be between £180m and £400m – the higher figure based on a 50% uptake.
The Conservative manifesto said the party would scrap the free lunches for infant school children in England, in favour of a universal offer of a free breakfast for all primary school children – saving £650m which would be reinvested into education.
But researchers from the Education Datalab led by Dr Rebecca Allen looked at the costing of the pledge, and discovered it was based on an evaluation of a particular charitable scheme, called Magic Breakfast.
This scheme relies on donated food and the Tory party costing failed to take account of staffing costs for its breakfast club policy.
Speaking at an Education Media Centre press briefing, Dr Allen said: "They say it's going to cost £60m but we think it's going to cost something over £200m to £400m.
"It's a problem because they wanted to scrap universal free school meals for infants and take that and put it back into the general slug of the education budget.
"We think that they can't manage to do that if they are going to deliver free school breakfasts."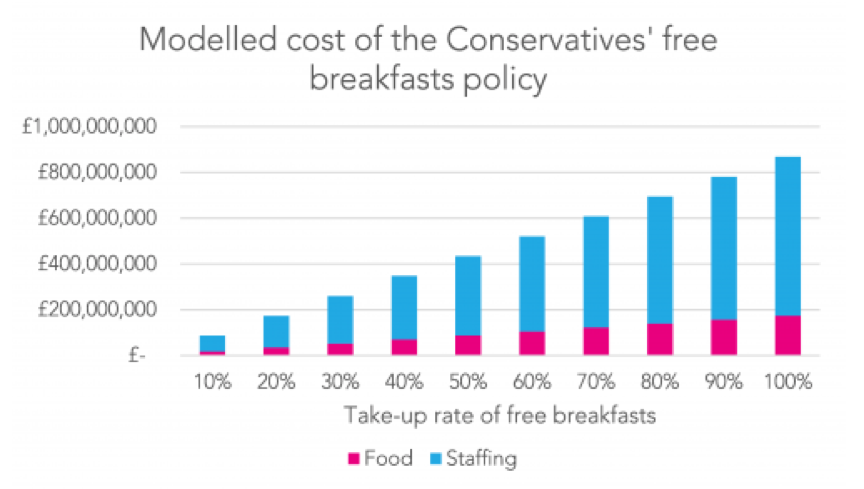 A spokesperson for the Conservative party disputed the figures, saying the policy was based on a breakfast club programme evaluated by the Education Endowment Foundation and the Institute for Fiscal Studies.
The spokesperson said: "These clubs didn't have 100% uptake – only around 25% of children attended, as in a Department for Education trial of breakfast clubs – but they still had positive effects for all the children in the school."
The Conservatives said if the uptake increased so would the cost but they did not believe this was likely.