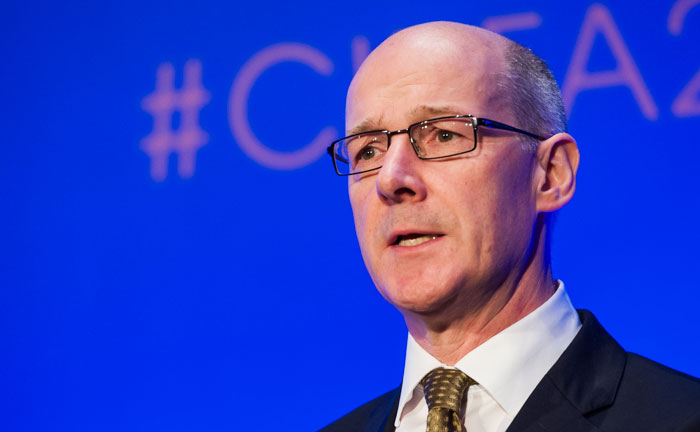 Swinney, who sat on the commission chaired by Lord Smith of Kelvin last year, said the top priority for the 56 SNP MPs in Westminster will be to ensure that the Scotland Bill currently progressing through parliament "properly and fully implements" the commission's outcome.
"At this stage in the proceedings I do not believe that is the case," Swinney told delegates at the annual CIPFA conference in London. "I believe the legislation needs to be significantly strengthened to properly and fully translate the Smith Commission's proposals into reality."
Swinney conceded that some aspects of the legislation currently before the Commons – on income tax, for example – do reflect the agreement. "There are other areas of the Smith Commission proposals – on welfare, the crown estate and the powers of parliament, where I think they have not been implemented and the legislation needs to be strengthened just to get to where the Smith Commission left things last year," he added. "That process of completeness is important for good faith in the UK."
Lord Smith, who addressed the conference in the same session as Swinney, said he agreed that the Scotland Act should accurately reflect the agreements brokered during the commission's 10 weeks of negotiations. He said he retains a "very keen personal interest" in seeing the findings of the Smith Commission implemented in full.
Swinney added that measures hammered out during the commission's negotiations should be viewed as a minimum requirement.
"The UK government needs to consider fully its response to the outcome of the general election in Scotland," Swinney said. "I accept that Scotland voted no in the referendum and I accept that the people of Scotland wish to remain part of the UK, but I also believe we must accept from the outcome of the general election that the people of Scotland want to exercise more responsibility over their own affairs – more than is envisaged in the Scotland Act 2015."
In his own address to the conference, Lord Smith said that the eventual outcome of the commission he chaired ought to include devolution of power not just from Westminster to Holyrood, but from Holyrood to "more local levels within Scotland".