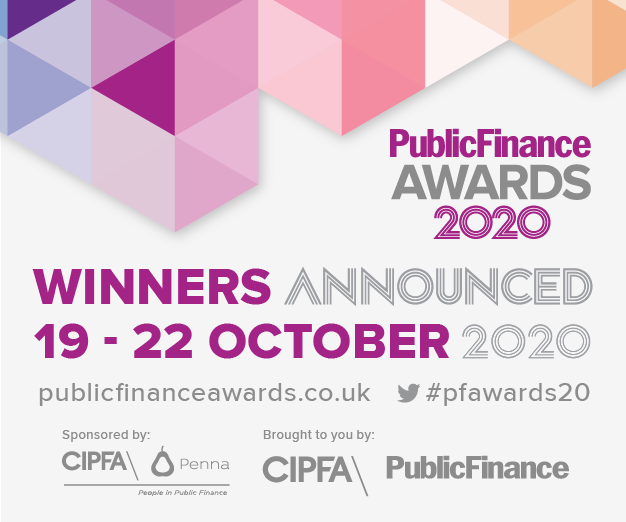 The Public Finance Awards 2020 – sponsored by CIPFA Penna and brought to you by CIPFA and Public Finance – will take place from the 19-22 October 2020.
Please see the announcements running order below taking place over the four days of the CIPFA Annual Conference Public Finance Live.
The timings of each announcement can also been found on the running order so you can add them to your calendar and make sure you don't miss any.

Once a winner has been revealed via the Public Finance Twitter page, please visit the Public Finance Awards website to find out more on the winner.

Day 1 - 19 October
Finance Training and Development Initiative – 10.15am
Good Governance, Risk Management or Prevention – 11.15am
Alternative Service Delivery Model of the Year – 12.45pm
Sustainability and Social Value – 14.15pm
Achievement in Financial Reporting and Accountability – 15.45pm
Day 2 – 20 October
Outstanding Proactive Fraud Detection and Recovery – 10.00am
Outstanding Procurement Initiative – 11.15am
Excellence in Public Sector Audit Award – 12.45pm
Digital Finance Project of the Year – 14.15pm

Day 3 – 21 October
Finance Team of the Year – Central Government and National Bodies – 11.15am
Finance Team of the Year – Health – 12.45pm
Finance Team of the Year – Council – 14.15pm
Finance Team of the Year – Local Services – 15.45pm

Day 4 – 22 October
Public Finance Future Leader of the Year – 11.15am
Public Finance Leader of the Year – 12.45pm
Solutions Partner – 14.15pm
Grand Prix – 15.45pm