By Richard Johnstone | 4 April 2012
A £600m 'Big Society' fund was launched today by Prime Minister David Cameron to help charities and community groups expand and become more business-like.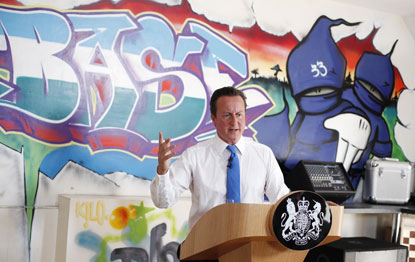 Big Society Capital will give
social enterprises and community groups access to affordable finance. The government wants the investment to enable the voluntary sector to apply 'business principles to tackle social problems on a sustainable basis', with no cost to the taxpayer.


Reclaiming cash left in dormant bank accounts has raised £400m, with the remainder set to come from the UK's four largest high street banks.
The fund will allow charitable groups to take advantage of the government's plan to open up public services to a greater range of providers. It will also give community groups funding to work on government initiatives, such as the troubled families programme, that are based on payment-by-results contracts.
Cameron said: 'For years, the City has been associated with providing capital to help businesses to expand. Today, this is about supplying capital to help society expand. Just as finance from the City has been essential to help businesses grow and take on the world, so finance from the City is going to be essential to helping tackle our deepest social problems.
'Big Society Capital is going to encourage charities and social enterprises to prove their business models – and then replicate them. Once they've proved that success in one area, they'll be able, just as a business can, to seek investment for expansion into the wider region and into the country.'
The fund, which will be chaired by venture capitalist Sir Ronald Cohen, will be run independent of government, with investment decisions made by an impartial committee. Cash will be repaid by the organisations through the income they generate, with any money the fund makes being reinvested.
Cohen said: 'What we've done for business entrepreneurs, we must now do for social entrepreneurs. We must give them the resources to innovate in the way we resolve social issues. Big Society Capital aims to transform the flow of capital into the social sector and to boost significantly its ability to improve people's lives.'
Civil society minister Nick Hurd added that the government also intended to further grow the social investment market and would come forward with proposals to give savers more opportunities to invest in charities.
However, the government has been warned that 'tensions' between social and economic returns will challenge the effectiveness of the fund.
Professor Cathy Pharoah, from Cass Business School's Centre for Charity Giving and Philanthropy, said that Big Society Capital 'represents the most ambitious attempt so far to stimulate the growth of social enterprise'.
But she added: 'BSC will attract investors who want market rates of return while doing some social good, and its funding will go to projects with good track records in attracting substantial contracts from government or funds from the Big Lottery.
'It will not be able to help small innovative social projects dealing with high needs and high-risk clients or service areas where social returns may be high and economic returns low. Its main value may be less in stimulating a new form of investment or asset class, [than] as a lever for reconfiguring mainstream public welfare provision through helping new providers enter the market.'