By Richard Johnstone | 13 September 2011
The government confirmed today that it is considering spending more to protect the transport network in severe winter, after last December's snow cost the UK economy £280m a day.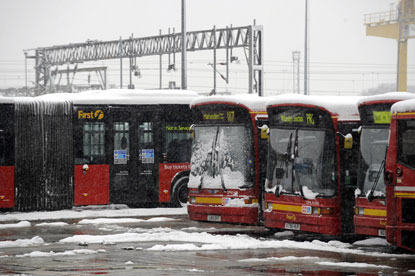 It is also going to examine whether the Met Office needs extra investment to provide more detailed weather forecasting.
The Department for Transport was responding to the Commons transport select committee's May report, Keeping the UK moving: the impact on transport of the winter weather in December 2010.
Last year's weather disruption is believed to have cost the economy 0.5% of gross domestic product growth, and was blamed by Chancellor George Osborne for the economy shrinking by that amount in the last quarter of 2010.
The government's response states: 'The DfT is working with economic and scientific colleagues across government to review the evidence on winter weather patterns, and test whether current levels of investment in winter resilience are optimised.'
The DfT has also confirmed that the rail industry is examining the case for replacing the third rail system, which provides electric current to trains south of London via an electrified rail on the tracks, with overhead cables, which are less likely to freeze and disrupt services. However, the department said that, ahead of the recommendations from the industry: 'It would be premature to commit to the very substantial investment which such a change would involve'.
The department's response concluded: 'There are lessons to be learned from our performance in every bout of bad weather and it is important that we learn those now. That is why the government agrees with the transport select committee that more can still be done. The focus of the department and the transport operators should be on continuously making improvements to the resilience of transport networks whilst learning any lessons quickly to ensure we can better meet any future winter weather challenges.'
Louise Ellman, chair of the transport select committee, said it was 'essential' that the government and transport operators learnt the lessons of the past two winters.
'Better planning for winter resilience combined with better information for drivers and passengers during periods of disruption can keep Britain moving,' she said.
'This winter will be a test of whether enough has been done to keep our airports, roads and railways open during snowy weather.'