By Richard Johnstone
| 11 July 2011
The government has today published its delayed plans to open up public services to new providers, with Prime Minister David Cameron saying that the government will 'bring an end to the "top-down, get what you're given" culture'.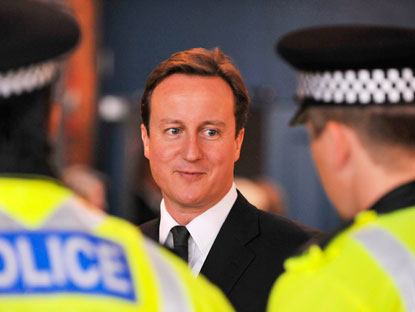 Cameron outlined proposals to increase choice and competition at the launch of an Open public services white paper, arguing they will provide 'more freedom, more choice and more local control' in public services.
However, the government has been warned that it must 'hold its nerve' as unions have already criticised the plans, which will allow companies, charities and community groups to bid to run everything from local health services to schools, libraries and parks.
The publication of the white paper has been delayed since January as the government undertook a consultation on plans to reform the NHS.
Announcing the plans this afternoon at the think-tank Reform, Cameron said that while public services were centralised for the right reasons, the impact has been 'incredibly damaging' in health, education and welfare.
He set out proposals to end 'the old big government, top-down way of running public services, releasing the grip of state control and putting power in people's hands …There will be more freedom, more choice and more local control. Ours is a vision of open public services.'
Underpinning the changes are the five principles of choice, decentralisation, fairness, accountability and diversity of provider.
Speaking ahead of the publication, Simon Parker. the director of localism think-tank the New Local Government Network, warned that the government must 'hold its nerve' if it is to succeed.
He said: 'Ministers are right to encourage local government to push decisions down to communities - and many councils are already doing exactly that. But the drive for localism must also apply to Whitehall departments.'
He called on the government to avoid the 'rocky time' experienced by the NHS reforms by outlining 'an ambitious new right for councils to bid to run central government services'.
He added: 'Ministers should be prepared to devolve everything from job centres to criminal justice unless there is a genuinely compelling case not to.' 
Trade unions have labelled the plans 'utterly wrong-headed', 'risky' and 'deliberately misleading'.
Gail Cartmail, Unite assistant general secretary, said:'David Cameron has turned his back on all the benefits that the welfare state have bestowed since 1945and decided that the private sector is the flawed vehicle to produce "reform".'
'Cameron's speech will demoralise the more than a million public sector workers in this country who keep our schools, hospitals, libraries, streets and communities functioning with no help, only disdain and savage attacks on jobs, from ministers.'
Unison general secretary Dave Prentis added that the plans would lead to 'poorer quality, high cost services at the mercy of the open market and risky competition'.
He added: 'The collapse today of home care [operators], Southern Cross, should act as a grim warning about what can happen when the private sector takes over public services.'
Public and Commercial Services union general secretary Mark Serwotka added: 'The government cannot be trusted to act in the wider public interest and it cannot be trusted with the welfare state. People will see through these plans and the deliberately misleading use of words like "fairness" and "balance" to cushion the blow.'