By Keith Aitken in Edinburgh | 15 October 2012
David Cameron and Alex Salmond today met at the First Minister's office in Edinburgh to sign the agreement that paves the way for a legally binding referendum in autumn 2014 on Scottish independence.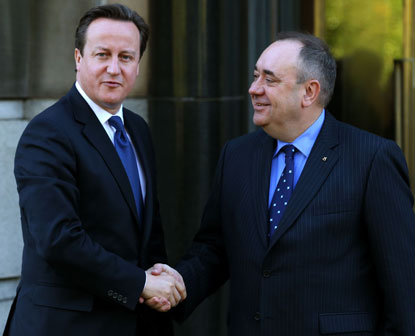 One of the few issues on which both leaders agree is that the vote on whether to dissolve the Union, formed 305 years ago, is an historic moment for Scotland and the UK. Both sides portrayed it as a definitive, once-in-a-generation decision.
Cameron said that a deal on process allowed the real debate to begin. 'It paves the way so that the biggest question of all can be settled – a separate Scotland, or a United Kingdom.
'It is now up to the people of Scotland to make that historic decision,' he said. 'The very future of Scotland depends on their verdict. It is that important.'
Salmond said that the deal, a six-page memorandum of understanding between the two governments, ensured 'the fundamental right' of the Scottish people to determine their own future.  It was, he claimed, 'an important step towards independence'.
The deal follows months of negotiation between the Westminster and Scottish governments. Cameron has won his way on confining the vote to a single yes-no question on independence, while Salmond has prevailed on the timing, the extension of the ballot to 16- and 17-year-olds, and the use of Section 30 of the Scotland Act to make the result legally binding.
Two other potentially divisive issues – spending limits for the respective campaigns and the wording of the question – will be resolved by the Electoral Commission.  Supporters of the Union argue that the Scottish Government's proposed wording, which asks if voters agree to Scotland being an independent nation, is prejudicial.
Polls consistently show that around a third of Scots back independence, and in recent weeks that support has appeared to weaken slightly. 
But around 40% want more powers devolved to Holyrood, and a key battleground in the next 100 weeks will be for the support of those voters, whose favoured option is denied by the single-question ballot. Polls also suggest that a majority could vote for independence were they persuaded that it was to Scotland's economic advantage.
Cameron was greeted by Salmond at the door of St Andrews House on Edinburgh's Calton Hill just after midday.  The Prime Minister highlighted what he sees as the benefits of the Union by prefacing the meeting with a visit to Rosyth dockyard in Fife, where work is taking place on a new aircraft carrier for the Royal Navy.