By Richard Johnstone in Manchester | 4 October 2011
Local Government Secretary Eric Pickles has announced that councils are to be given enhanced powers to evict travellers from unauthorised sites following the long-running legal battle at Dale Farm in Essex.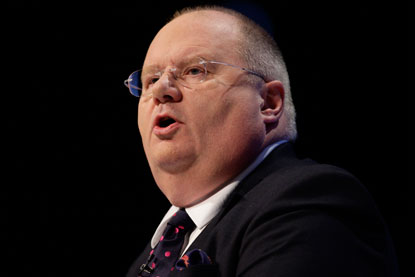 Addressing the Conservative Party conference yesterday, Pickles told delegates that the coalition's planning reforms include powers to prevent such sites 'from being established in the first place'.
Pickles noted that the Dale Farm case has been before the courts for ten years, with Basildon Borough Council attempting to remove travellers from the parts of the site where they do not have permission to be. The council's plans to evict the residents are currently subject to judicial review.
Councils will also be given £60m to build official traveller sites, but Pickles said planning laws must also be upheld.
'It's not right to have planning rules which give the green light to traveller camps being dumped on the green belt and open countryside,' he said.
'You hear a lot about human rights these days, but rights and responsibilities cut both ways. It's time to respect the family life of those who have to live next door to these illegal sites.'
The government's changes would also simplify the planning system, he said, providing 'greater certainty for local firms and local residents'.
Responding to concerns that the planning reforms had the potential to increase development on green belt land, Pickles said: 'I's not a choice between countryside and concrete'.
The secretary of state also confirmed that extra funding would be provided to local authorities to reinstate or continue weekly bin collections, as revealed last week.