By Mark Smulian | 18 October 2011
London Assembly members have cast doubt on whether the capital's mayor can meet his target for savings from shared services.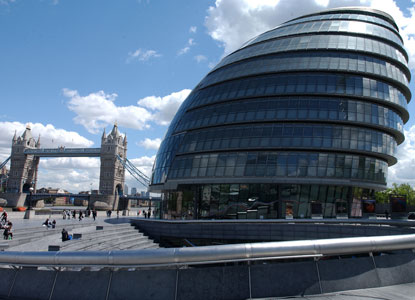 Their Pre-Budget Report 2011 says Boris Johnson's 'target and timeline for [these] savings look unrealistic'.
Assembly members are powerless to amend the budget unless they can muster a two-thirds majority against any of its provisions, a rare occurrence. However, their report, published today by the budget and performance committee, is used to flag up issues ahead of the proposed budget's publication in December.
The report says shared services arrangements worth only £1.2m had been implemented since 2006, 'less than 0.5% of the £300m a year now hoped for'.
Police, fire and transport budgets had failed to disaggregate shared services savings from those of other kinds, causing 'difficulty [in] assessing progress towards the mayor's shared services target'.
The committee is also sceptical about the mayor's ability to use additional borrowing to meet budget gaps caused by reduced government grants.
It says he has proposed borrowing £110m over three years, a sum that would exhaust current borrowing capabilities and leave an annual cost of £10m for interest and loan repayments, whose affordability was questionable.
Concerns are also raised about unexpected costs arising from next year's Olympic Games, including those from the stadium remaining in public ownership, and the £190m bill for the police arising from the August riots.
Committee chair John Biggs said: 'It is becoming increasingly challenging for the mayor to protect services that millions of people in the capital rely on every day. This looks set to be his toughest budget yet.'
The mayor's budget is made up of four parts – the Greater London Authority's own activities, the Metropolitan Police, the London Fire and Emergency Planning Authority and Transport for London.
In 2011/12, the police budget was £3.5bn, of which £2.5bn came from government grants, which are expected to reduce by 7% in 2012/13, the report says.
The LFEPA has a £453m budget, of which £252m came from the government. This is due to rise slightly by 0.2% in 2012/13 but it is not known whether it will face heavy cuts after that to bring it into line with the 25% real terms cut imposed on English fire and rescue authorities in the four years to 2014/15.
TfL has a £9.2bn budget, £3.3bn of which comes from government grants, which will fall by 21% in real terms over the four years to 2014/15.
The GLA budget of £136.3m includes £44.7m of government grant, expected to fall by 1.7% next year.
It will take on housing and economic development responsibilities next year from the Homes and Communities Agency and the defunct London Development Agency, together costing some £700m. Government funding for this transferred work is yet to be confirmed.