By Vivienne Russell in Birmingham | 8 July 2011
Community Budgets represent a 'step back' from the Total Place initiative begun under the previous government, Lord Bichard told CIPFA delegates in Birmingham yesterday.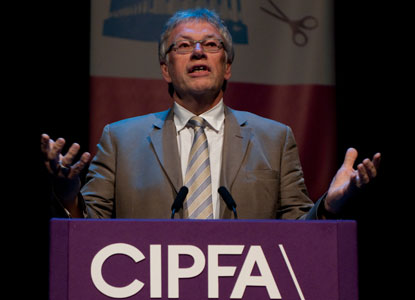 Speaking at the closing session of the CIPFA conference, Bichard said Community Budgets were narrower in scope and less ambitious than the Total Place concept, which he had helped develop.
Both schemes involve pooling money controlled by different public sector agencies into a single local pot. However, the current Community Budget pilots are focused only on working with families with complex needs, whereas under Total Place, local authorities and their partners could choose where to target resources.
Bichard's speech was generally gloomy about the state of public services, which he described as 'badly flawed'. But he said the coalition's approach lacked coherence.
'There's no convincing vision or convincing strategy on public service reform yet,' he said.
He said one of the keys to a successful transformation of public services was greater integration in Whitehall. Departments needed to start pooling their own budgets under the direction of a cross-government group of senior ministers.
'True localism can only be achieved if you can stop central goverment making policy and setting targets in silos,' Bichard said.
'I don't see enough signs that things are changing there.'
Reflecting on the performance of the coalition government since it took office in May last year, Bichard gave a mixed verdict. He said that the coalition had been quite radical in some areas, citing the planned Universal Credit. But it had been 'surprisingly lacking in ideas' about generating growth. He said higher education reform and the cull of quangos had not been 'well thought out'.
Communities Secretary Eric Pickles yesterday told the conference that the first wave of Community Budgets had been a success and a second wave of pilots, covering wider areas, would be launched shortly.