By Richard Johnstone in Birmingham | 29 June 2011


Councils will be allowed to retain business rates raised in their area following the Local Government Resource Review, Nick Clegg has announced.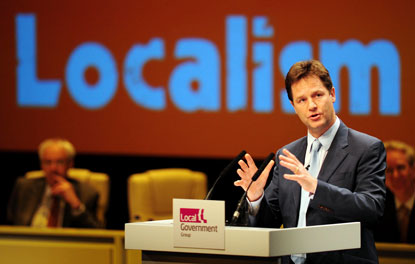 Speaking to the Local Government Association conference in Birmingham today, the deputy prime minster said that the centralisation of business rates in 1988 was 'a mistake'. Relocalising them would provide a 'massive new initiative' for local authorities to boost economic growth, he added.
Clegg said that the move would 'reverse decades of centralisation to make our communities masters of their own economic destinies'.
The government will introduce a Local Government Finance Bill following a consultation on the resource review. This is expected to take place over the summer.
The Bill will provide the statutory basis for the business rates change and will be introduced in the current session of Parliament, with the changes taking effect in the next three years.
He guaranteed the change would be fair to all authorities. 'More deprived areas will not lose out. From the start, no authority will receive less funding when the new arrangements are introduced than they would have done previously,' the deputy prime minister said.
He also said that the retention of business rates would lead to the introduction of Tax Increment Financing, allowing councils to borrow against future business rate income to pay for capital projects.
The LGA said the move was 'encouraging'. Chair Sir Merrick Cockell said: 'Now more than ever, we need to put in place a funding system that will support local public services and generate economic growth. Councils are dealing with the consequences of steep reductions in central government grant, and so it makes sense to move towards a system that gives them greater freedom and flexibility.'
He added: 'It is important that any new system recognises the current imbalance in local economies and ensures that there is no localisation without a fair system that allows every community in the country to benefit from the nation's and their local area's economic growth'.
The New Local Government Network think-tank said that move would provide local government with 'more independence and a financial shot in the arm'.
However, Tom Symons, a senior researcher at the New Local Government Network, warned that there would 'inevitably be winners and losers'.
He added: 'To limit the risks of increasing inequality, we need to be looking not just at how much money councils can access through business rates, but how able they are to drive growth.
'This package of recommendations is not the last word on local government financial autonomy. In fact, measures such as localising business rates should be seen as only one ingredient of a local government plan for growth.'