1 February 2012 | By Mike Thatcher
As head of the Government Finance Profession, Richard Douglas is overseeing big changes to Whitehall's financial management. He tells PF how he combines that with his day job at the Department of Health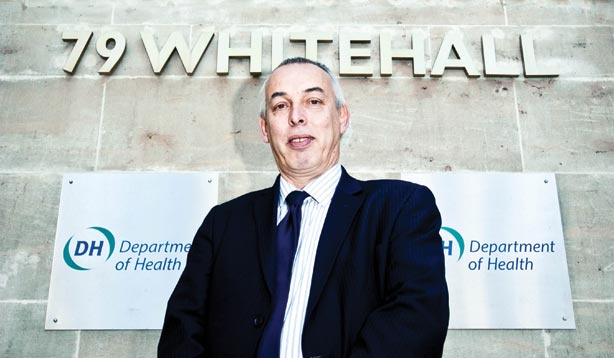 They say that if you need a job doing, then ask a busy person. This might explain why Richard ­Douglas was last year invited to become head of the Government Finance Profession, representing 9,000 accounting staff across Whitehall.
In his day job, Douglas is the director general for policy, strategy and finance at the Department of Health. Given the changes taking place at the department and the NHS more widely, one would think he has enough on his plate. But Douglas tells Public Finance that he relishes the opportunity.
'Sometimes it's difficult trying to squeeze everything in,' he says. 'But the finance profession role does open up other things. You find out what is going on in other departments. You have wider links with the profession and wider links outside Whitehall. So all that gives you an extra bit of reinvigoration.'
Douglas certainly brings ­experience to the job. He is the longest standing director general of finance in central government and has been a board member at the Department of Health since 2001. His three spells at the department include a period as acting permanent secretary, and he now leads a directorate of 600 people.
In previous finance roles Douglas also worked for National Savings & Investments and the National Audit Office, while he has also served on a number of CIPFA panels.
As head of the profession, ­Douglas has a leadership role and also acts as the voice of finance in Whitehall. His two predecessors – Jon Thompson and Dame Mary Keegan – helped to improve the status of accountancy in government despite continued criticism from the likes of the National Audit Office, Public Accounts Committee and the civil service's own capability reviews.
Douglas believes that much progress has been made in professionalising finance across Whitehall. The number of ­qualified staff has grown, there are more finance directors on departmental boards and the quality of external reporting and accounting has improved radically. But there is still a lot to do.
'What we haven't necessarily yet achieved is stepping up a level – saying we really need to change the culture within central government on financial management. It's that cultural change that I really want to work on over the next two years.'
He accepts that cultural change can't be achieved in a year or two, but is aiming to assess performance through the use of self-assessments. Across Whitehall, departments are currently evaluating the fitness for purpose of their finance functions with the results to be used to recommend reform.
The self-assessments are part of the Finance Transformation ­Programme, launched by the Treasury last year to examine leadership, professionalism, the development of a cost-conscious approach and the quality of central functions. Douglas's team is currently collating the results, which will be used to target improvement efforts across government and in departments.
But can significant progress be made given the number of finance people who are losing their jobs across central government? Whitehall has been told to cut the administrative costs of departments by one-third over the spending review period and job losses in 'back-office' staff such as finance have already been widely reported.
Douglas, however, denies that the departmental redundancies in finance are excessive, asserting that staffing levels are 'relatively flat'. He says that the official figures have yet to be verified for 2011, but points out that they will show about 9,000 qualified and part-qualified Whitehall finance staff, compared with 9,300 in 2010 and 9,400 in 2009.
So, I ask, does this mean that the importance of the finance function has been acknowledged? 'Generally people recognise the importance of finance. You look at the challenge we are facing across government – there's a very clear recognition among ministers of the importance of having strong finance teams,' says Douglas.
'What I wouldn't want to do is always associate strong finance teams with large numbers of people. There are different delivery models. But I don't think there is any question that there is a real recognition of the importance of finance within government.'
Douglas says that the emphasis for ministers and permanent secretaries is to improve the finance skills of non-finance staff to facilitate the move to a cost-conscious culture and ensure that every taxpayer penny is spent wisely.
'I am not hearing anything that particularly focuses on "we need to downsize significantly the size of the finance profession". What I am hearing a lot more is that you need to upskill the non-finance professionals into thinking in a way that really focuses on the importance of finance in their job.'
He says that the cuts to budgets and administration costs across central government require considerable professional financial management support. However, he accepts that the number of finance staff in 2012 might show some decline.
'I am not saying that you won't see a reduction in the number of qualified finance professionals. I'd be very surprised if you didn't see a reduction over the next few years. But what I am saying is that there is a recognition of the importance of excellent financial management in government.'
At his own department, health, there has already been a significant fall in the number of finance staff. Douglas says the reduction in its finance headcount over the past two to three years has been in the region of 15%. This is partly because of the structural changes in the NHS, which will see many of the department's responsibilities shift to a new Commissioning Board.
The board is currently in shadow form, but should be fully operational from April 2013, by which time the DoH will have more of a leadership role. Douglas is carrying out a financial management assessment of the department to determine the competencies necessary for this brave new world.
'What we have tended to do in the past, and I am as guilty of this as anyone, is to make some sort of incremental reduction. What I want to do now is sit back and make a proper assessment of where we are as a department in terms of our financial management capabilities, not just in the finance directorate, but across the whole of the department.'
Health may have had its overall budget protected in the spending review, but it still has to deal with the increasing financial pressures associated with an ageing population, the rising price of drugs and lifestyle-related problems such as obesity and alcoholism. As a result, the NHS will still have to find considerable savings over the next few years.
Sir David Nicholson, NHS chief executive, originally called for cuts of £15-20bn as part of the Quality, Innovation, Productivity and Prevention (Qipp) programme, with the funds being reinvested in front-line services. The 'Nicholson Challenge' was then amended by the incoming coalition government to a £20bn reduction.
Such a saving is unprecedented and places huge pressure on finance staff both in the NHS and in the department itself. Douglas acknowledges that this is a difficult time, but says that morale is holding up and that staff are determined to continue providing an excellent level of service.
Whether service levels can be maintained in such an environment, however, is a moot point. Questions have already been asked about the effect on NHS waiting times, particularly the target that 90% of patients are treated within 18 weeks. The issue was raised last year when it was suggested that there were 250,000 'forgotten patients' who had waited longer than this period.
Douglas is reluctant to discuss the details of waiting times, beyond confirming that 'we are still meeting the standards'. But he emphasises the quality component of the Nicholson Challenge.
'David Nicholson won't talk about productivity without talking about quality. This is not about reducing quality of service, it is about delivering it more productively. We are not in the position of trading quality for cost.'
But such a task gets harder each year. Once the 'easy cuts' have been made in terms of cost containment and general economy measures, the department has to look at 'transformative changes' such as bringing health and social care closer.
So, how can transformative change be achieved? Douglas returns to an earlier theme. 'We need to get to a position where good financial management is seen as the core responsibility of everybody in the department and not just the finance team.'